Every single piece

handmade by our award-winning Pastry Chefs,

just for you.
Each set comes with all of these bespoke mooncakes, and a bottle of Danger Close Beverage Co.'s "Missin' Mooncakes" Sparkling Tea.
Singa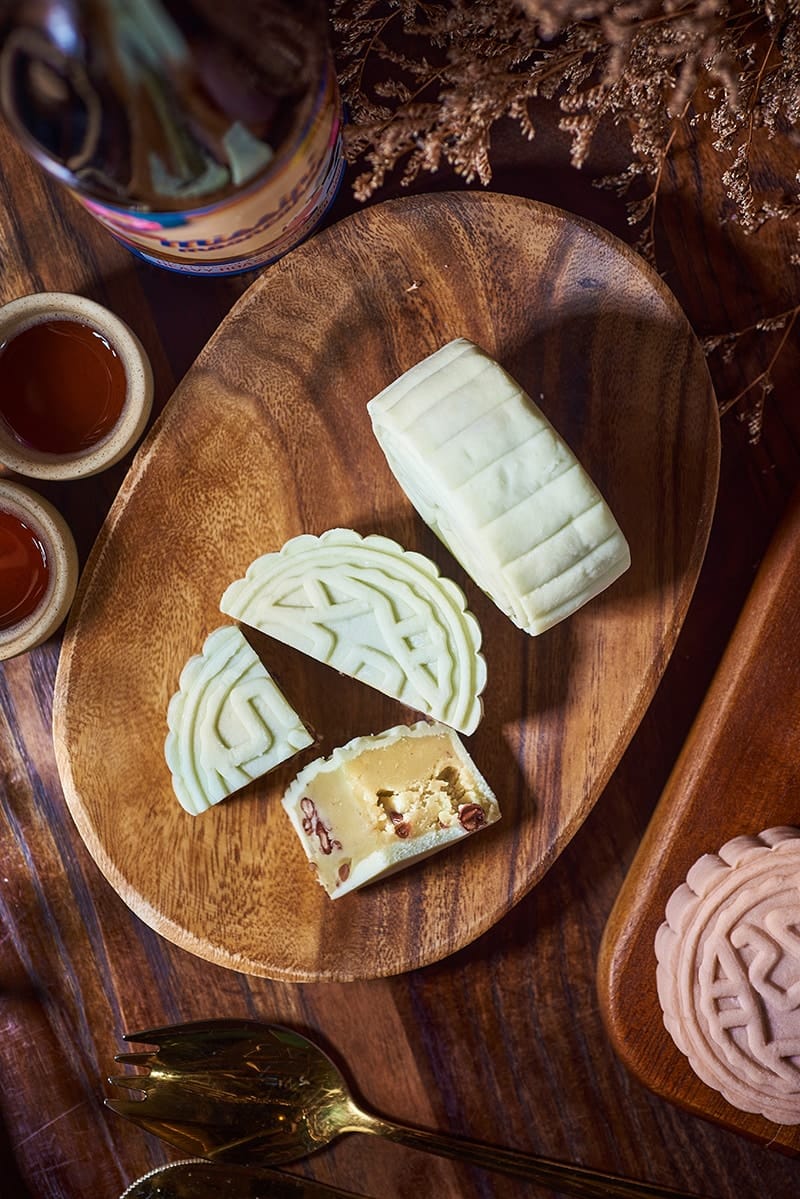 Filled with a Singapore-favourite: Pandan Kaya-infused lotus paste, with an Adzuki bean core.
The Kiddo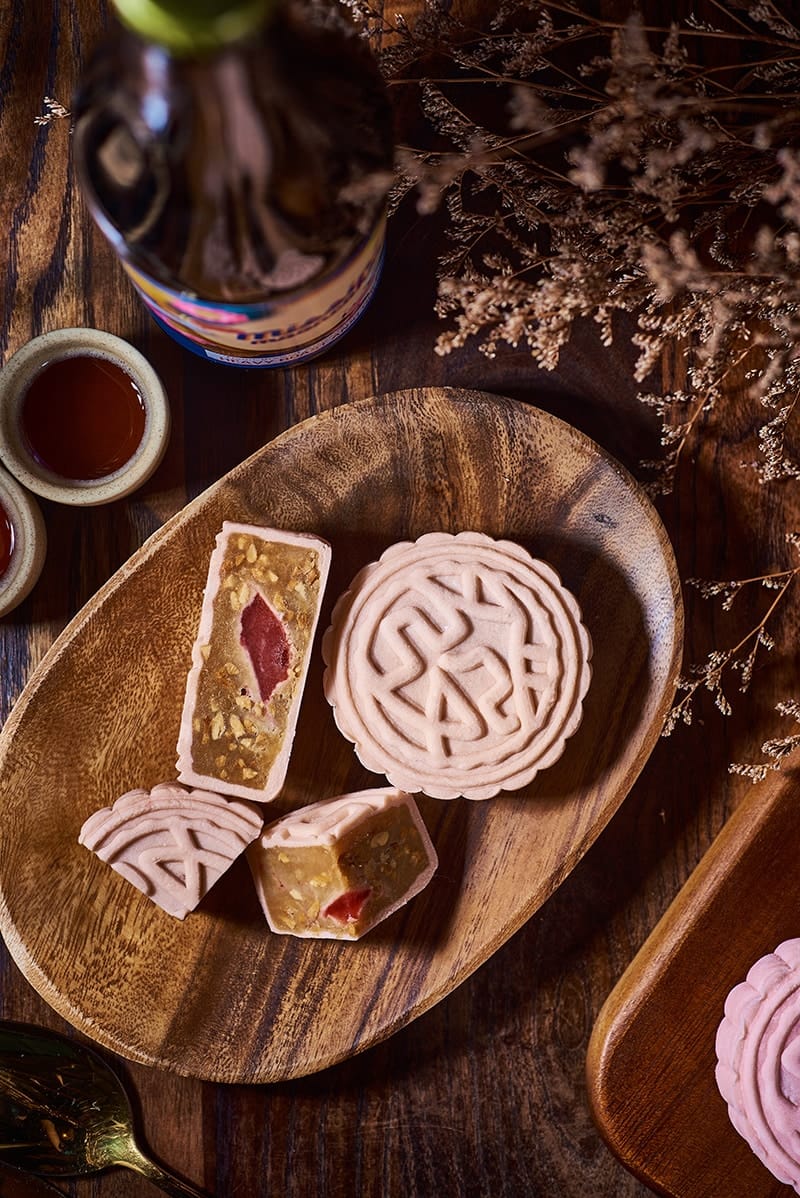 Inspired by a childhood breakfast favourite. A crowd pleaser with our homemade Peanut Butter lotus paste alongside jelly swirls!
New Yorker
That sweet and savoury cheese, surrounded by the familiar crusty crunch from Graham crackers!
The Bounty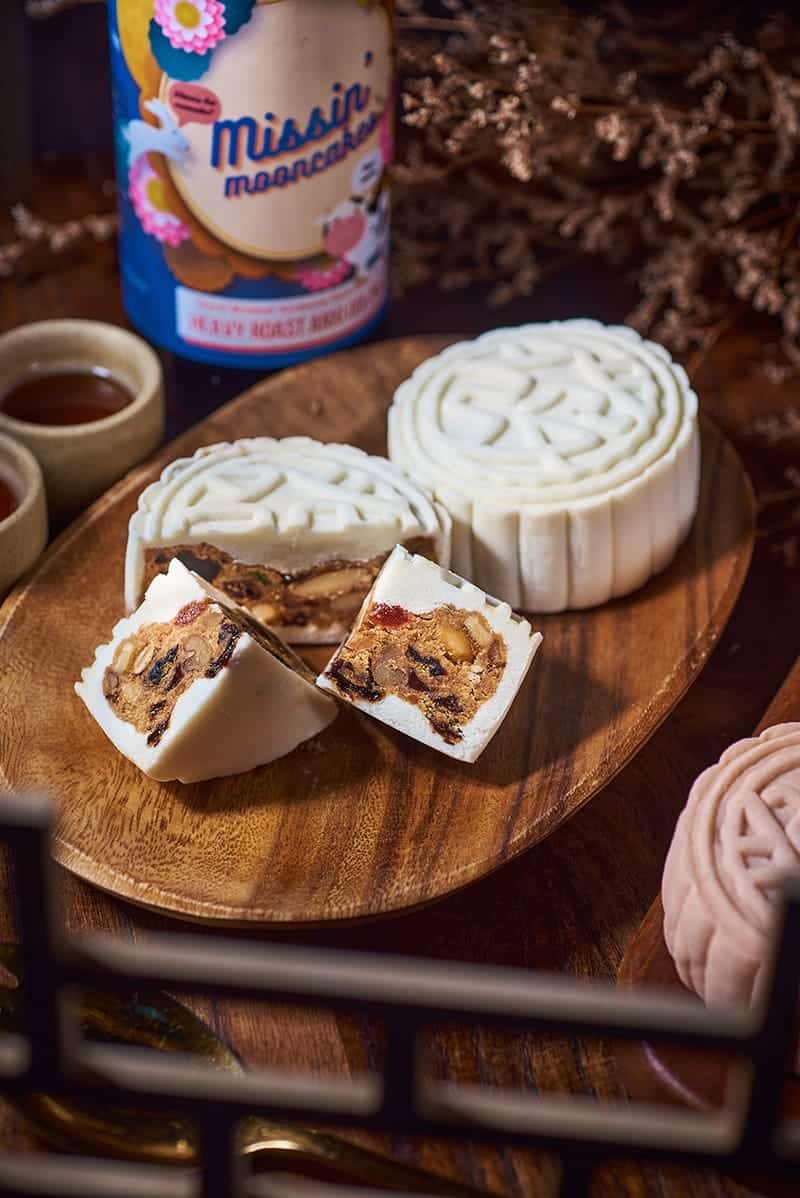 Our premium mix of fruits and nuts 'cake blend', made with real dark and white rum buttercream in the mix.
Introducing the
Chicken Pie Kitchen

x

Danger Close Beverage Co.

2023 Mooncake Collection

We're honoured to have a team of very talented Pastry Chefs including Pastry Chef Kelly and our award-winning Patissier Audrey.

Together, they conceptualized and put together our 4 flavours above after months of R&D and feedback from our customers, friends and family.
"We wanted to encompass the traditional flavours that Chef Don has known over the years and incorporate some of his signatures.

At the same time, we also wanted to add a playful touch with quality ingredients just to make that celebration a little more special."
These are not your traditional snowskin mooncakes, too.
In fact, they're almost double the size of most snowskin mooncakes in Singapore - measuring almost 7.7cm wide and weighing around 140g to 150g each.
Usually priced at $108.80, now with a 30% early-bird discount and going for
$76.16
Paired this year with
Singapore's best Sparkling Tea by Master Brewer Calvin Ang

of Danger Close Beverage Co.
Heavy Roast Anxi Oolong Sparkling Tea - Blended specially to pair with our mooncakes this year. Some local celebrity chefs we've met swear by Master Brewer Calvin Ang's sparkling teas. For us, we tried his sparkling teas just once, and we decided that we had to bring it to YOU.
Established in 2017 in a humble stall at Alexandra Village Food Centre, Danger Close Beverage Co's sparkling teas has made its way to numerous restaurants' menus, and even at several 5-star award-winning restaurants of 5-star hotels locally. These hotels have actually even reported that Master Brewer Calvin Ang's teas made it to the best-selling drink within days of its introduction.
Here at Chicken Pie Kitchen & Don Signature Crab - we're proud to carry a selection of Danger Close Beverage Co's teas on-tap at our 39 Tyrwhitt Road restaurant, and canned (for quick takeaway) at our Orchard Road takeaway kiosk at the entrance of the Singapore Marriott Tang Plaza Hotel.
Specifically for this Mid-autumn Festival, we worked for months with Master Brewer Calvin Ang to create the perfect tea for pairing with our mooncakes, and we are excited to announce that "Missin' Mooncakes" brew will be included as part of every mooncake set that we're rolling out this year!
$108.80 - After 30% early-bird discount:
$76.16
Based on 840 reviews on Google Maps
We ordered Lala & Prawns Bee Hoon and loved it lots! Lala & Prawns were XL in size and very fresh (seldom come across places that serve fresh prawns these days). Don't think you can find this soup taste elsewhere. Will be back to try the other dishes. 😋 Staff were friendly and helpful too. 👍🏻

Dog friendly place, do reserve early as they only have two tables which allows dogs. Don pie still taste the same after so many years. The seafood soup is a must try, very flavourful and the added herbs go well!

Very worth it for the price for the prawn noodle
Pet friendly but must be leashed.
Wifi available

Ratings
Pricing : - reasonable
Service : excellent
Food : tasty
Environment: cosy
Delivery : fast
Covid measures : excellent Pet friendly 🐶🐾✅

Love the broth of the crab bee hoon ...yummy🥰...the prawn bee hoon ..another star on its own!

I have eaten Don's pies since I was a kid when my parents would by for me. I am glad Don has reopened his own place and brought back the ORIGINAL standard that I tasted 20 years ago. The pastry is fragrant, the chicken chunks are well present. Over the years, the taste from other outlets changed and degraded, but now eating the pie from his own shop now in 2022 brings back memories.

XXL Crab bee hoon is a MUST!
Laksa is heavenly creamy and umami!
Druken shrimp is very unique!
All must try, including the chicken pie!

Been enjoying Don's chicken pie for a long time, first time trying his crab bee hoon. I can only say it's a wonderful rendition of the dish, not too 'gelat' and the portion is just nice for two. Have to add the chilli is perfect. Will definitely be back for more pies and crab.

A very delightful serving of white beehoon with the tasty broth and chunks of prawns and lala at a very affordable and more than reasonable price! The chicken pies (and Shepherd) are great as well, so much ingredients inside that give you satisfaction to every mouth and cut of the pie.

Try it and you will love it!

Ps. This review was at the new outlet. They have moved to the new location at 39 Tyrwhitt Road.

Really rich and umami broth! The portion was HUGE with an abundance of ingredients. The one pax serving fed 2 adults well. Chicken pie was yummy. I liked the chic decor as well.

Top notch laksa, crab beehoon, cheesecake, and of course pie at this cosy pet-friendly eatery. Will definitely be returning and trying more of the menu.

Amazing taste and quality of the dishes. I ordered the black pepper chicken pie as well as the crab bee hoon. The crabs were so fresh and the soup was extremely delicious! Perfect for a rainy day!

The black pepper chicken pie crust was soft but crispy, the filling portions were generous and really good!

Parking was very convenient as well with the stadium nearby, you get hundreds of lots just a quick walk away.

I highly recommend the place! I'm going to try the la la next!